Continuous Improvement towards Zero Defects.
Doing it right the first time, Leoco strives to improve our quality and process, eliminating product failure and increasing values to our customers. In this ever-changing environment, we continuously monitor and evaluate the best approach to each process.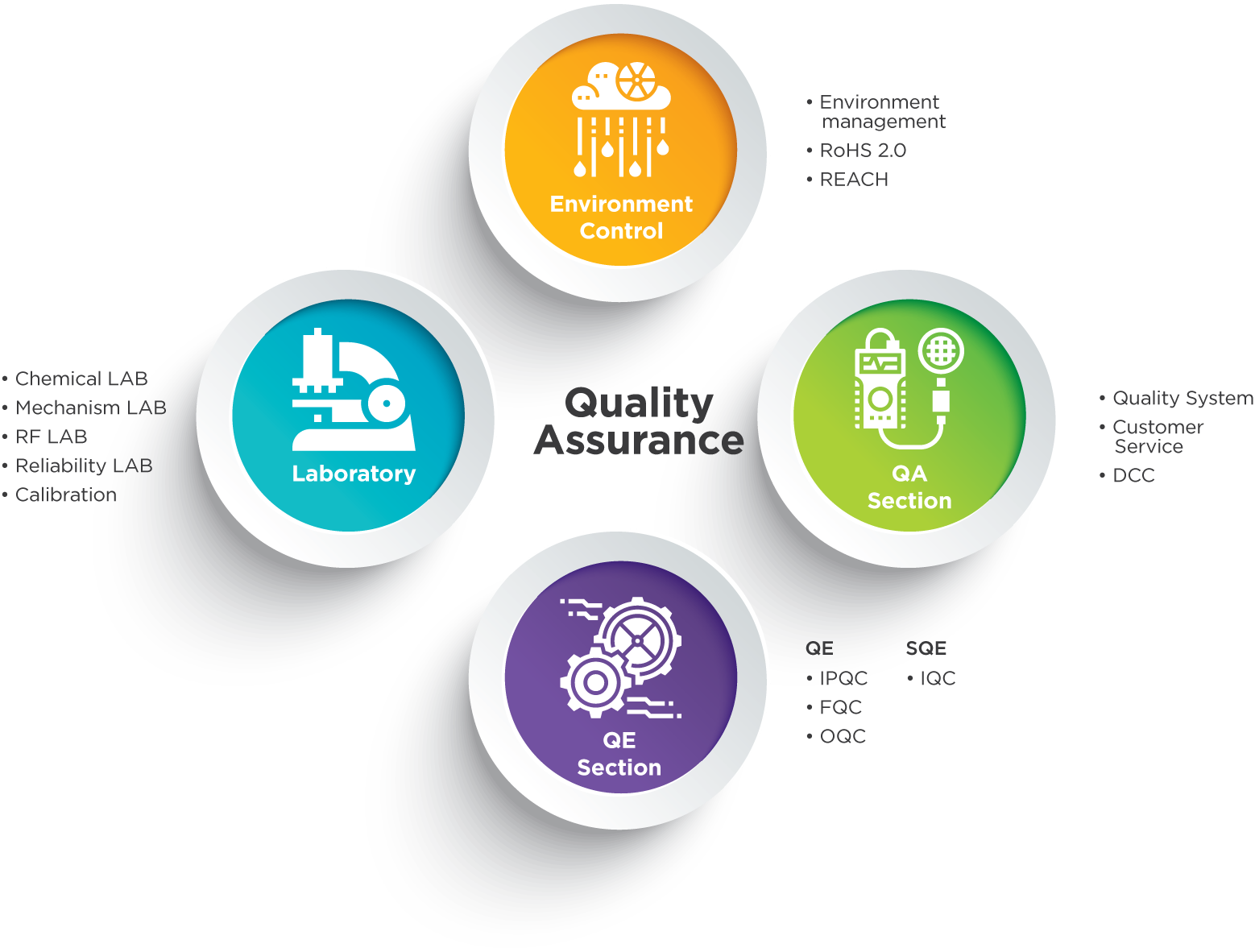 QUALITY ASSURANCE JOB FUNCTION
Certify and maintain ISO9001, 14001, TS16949 systems.

Execute customers' survey or audit; follow through improvement action and feedback message.

Audit and manage vendors' quality system.

Establish  ISO/TS internal and external audit plan; execute and follow through improvement corrective action.

Build and maintain SIP.

Safety product certification.

Deal with Customers' complains issue.
Maintain environmental safety system; ensure the products produced by LEOCO are non-hazardous substances and meet the requirements of RoHS and REACH.

Collect environmental regulations as well as corresponding requirements from customers; update LEOCO standards timely to satisfy the demands mentioned above.

Communicate our environmental requirements to suppliers in time; substantiate suppliers internal product inspection and impel suppliers to provide results that meet HSF standards.

Audit environmental system for both Leoco internal and suppliers regularly.
In-coming inspection (raw material)

Suppliers quality management

Audit suppliers by the quality system

Final quality inspection.

In-Process quality inspection.

Out-going quality inspection.
Calibrate and maintain Equipments and gauges.

Verify and provide the reliability test of the products from suppliers.

Execute the reliability test of current products in Leoco.

Test the performances of new products and provide data that benefits their improvements.

Improve integrated level according to ISO/IEC 17025.

Verify Rohs & Reach.
Maintaining the highest quality standards to our customers have always been Leoco end in mind. We achieve our mission by setting tangible goals that allow our customers to judge us based on what others opinion and not ours. Our strategy has always been simple; strict materials control with sincere effort to produce the best quality product.
At Leoco, our strong track record is built on the foundational beliefs that happy employees bring satisfied customers. With customer satisfaction as our end goal in mind, Leoco Corp always seeks new and innovative ways to achieve our primary mission. Speak to our local customer service officer today to find out more!